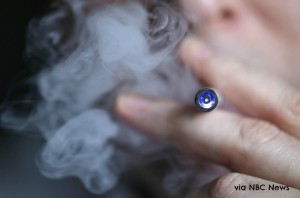 The landscape for e-cigarettes is quickly becoming populated with high tech gadgets designed to make the vaping experience so much more advanced than regular analog cigarettes.
Many people start using e-cigarettes as a healthier alternative to smoking, but end up with a nagging feeling that they're vaporizing more than they ever smoked in the past. To take control of your life, you need the hard data and an elegant system that can make controlling your urges a source of enjoyment.
One such innovation is a smart vaporizer (or e-cigarette) that allows you to track and control how often you smoke via your smartphone. It's one of the first e-cigarettes designed for the connected, social web. An example is the Kosmo, a connected e-cigarette with an associated coaching app. You can create a custom reduction program with a daily cap that decreases gradually, and social features allowing friends to hold each other accountable.
Some e-cigarette manufacturers now sell an e-cig complete with bluetooth connectivity and an app for your phone. The ecig itself monitors the number of eliquid puffs you are taking from your ecig, the amount of nicotine your taking, how much money you have saved not smoking cigarettes, how many cigarettes you would have smoked, the health benefits you should expect. This technology will allow you to set goals for yourself as you quit smoking, advise on usage, give you reminders and messages and you can even share your progress across social media to let your friends know how you well are succeeding in quitting smoking. All the information about your vaping is shown on the phone app in easy to read menus and graphs to track how you're doing easily.
Here are a few other tech-optimized e-cigarette examples:
iHenley Smart E-cigarette
The iHenley can track vaping and nicotine intake real time, set targets and goals, receive on-going alerts and status reports. They can even track your friends progress as well. It's easy to use, stylish and a great way to monitor eliquid and nicotine use.
SMOKIO wireless e-cigarette
The Smokio allows users to change voltage settings via the phone app instead of a fiddly button on the ecig itself, it also synchronizes your phone to your ecig automatically, even when you do not have your phone on you. The battery also lasts 7 hours in use, days in standby mode.
In addition, the app promises to grant users the ability to monitor data such as where they have used the e-cig, how often they're smoking, and even how many real cigarettes they would have smoked based on the number of puffs taken from the vaporizer.
While there is much competition out there to have the latest and greatest tech for e-cigarette users, there are still many untapped technologies that can be applied to e-cigarettes. An example is a recent innovative patent that was awarded to SS Choice LLC which will help vapers to determine how much eliquid is still left in the tank system of their e-cigarette. Right now, it is a guessing game and having a gauge that can quickly tell an e-cigarette user when to refill their tank will certainly solve a simple yet pervasive issue.
What else does the future hold for e-cigarette fans and aficionados?