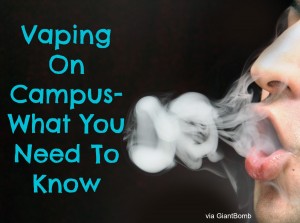 Students across the country have headed back to college in the last few weeks. If you're one of the university students who made the switch from smoking to vaping over the summer, congratulations!
Your school year will likely be easier for you just with this one change. When you smoked, your life probably revolved at least a little on your smoking habits. Now that you've traded your smokes for an  awesome vaporizer, your daily routine probably changed. And that's definitely a good thing! Adjusting from a lazy summer to the hectic and busy college life can be stressful.
In fact, you might feel yourself wanting to start smoking again. Resist the urge! You were able to put down the pack for a much better alternative, so you know you have it in you to stick with vaping. Here are some of the differences between your life as a smoker and life as a vaper.
Your Swag
When you were an analog smoker you needed two things to get through the day – your smokes and a lighter. Now that you're vaping, you need to be prepared but with different supplies. So always make sure your ecigarette battery is completely charged, and that you have a spare battery, charger, and extra eliquid. If you're in class all day, you probably won't have time to run back to your dorm during the day to grab your vape. Better to keep some extra supplies in your backpack so you always have them with you.
How Do You Get Your Swag?
Smoking is extremely convenient. You can buy cigarettes at gas stations, grocery stores, and tons of other places so you never need to worry about where to get your next pack or carton. Vaporizers are sold in a lot of the same places as cigarettes, but your selection will be limited. That's where we come in! We have unbelieveably low prices and super fast shipping. You don't want to run out of your favorite juice and be forced to buy another flavor that you're not used to, or a gas station disposable that just doesn't cut it.
However, just because you have your favorite setup (hardware and flavor), doesn't mean you can't experiment! Going to school in a place other than your home town gives you new opportunities. You might find a new vape shop with eliquids and  ecig batteries you've never tried before. It's fun to check out all the options. Vape shops also give you the chance to meet other people that vape – either people who work at the store, or customers who hang out there.
Sharing Your Swag
Talking with other people who use ecigs can be really helpful, especially if vaping is new for you. You can definitely learn from each other and share your vape gear, comparing notes and reviews. Your college campus is full of clubs and organizations for activities from soccer to art to the Geek life. Your university might even have a vape club just for the students. Attending vape meets are an awesome opportunity to meet other vapers, learn more about ecigs, and try new products. And if your college or university doesn't already have a vape club you can always kickstart your own!
What's Vaping Etiquette?
As a smoker, you were forced to smoke in designated areas, herded away from everyone else. You probably got used to that. Even though you might have smoked at home or in your car, when you were in public, you had to follow the law. When ecigarettes were first introduced, you could vape practically anywhere. Now as they're becoming more popular, many governments, colleges and businesses have banned vaporizers everywhere regular analog cigarettes are banned. Find out if there are specific rules about vaping on your campus and  be sure to follow them. If you're not allowed to vape in the classroom, then don't!
Even in places where vaping is allowed, you should still be respectful. You need to portray vaping in the best light and maintain a good image. It's better to be considerate of other people around you and ask first if they mind that you vape.
In fact, you may find yourself vaping outside where the smokers are. They might even be interested in your pretty cool ecig and want to learn about vaping and may be even becoming a vaper too!
We want to hear from college student vapers. Are there special ecigarette policies at your school?