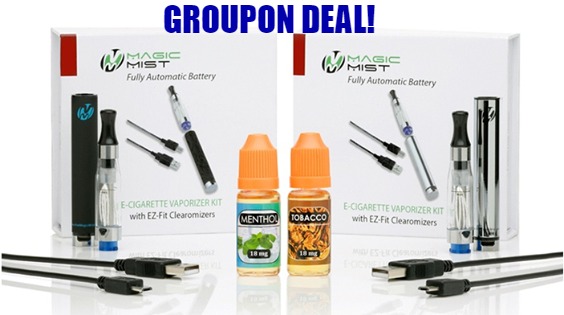 Electronic cigarette vaporizers hit the world by storm, and they have become far more than a trend over the past few years.  Look, smoking traditional cigarettes were not only unhealthy, but the entire process became a pain in the neck with all of the rules and restrictions. With the eCig vaporizer you do not have to worry about all of that or the adverse health issues.
There is an eCig for everyone with the wide variety of colors, shapes, sizes and flavors. For the first time ever there is a vaporizer that does not have the clumsy buttons that make using it awkward. Nothing about the new eCig vaporizer by Magic Mist is overly complex. These are easy to use, and users do not have to fill with a liquid before vaping.
Meet the EZ-Fit auto-vaporizer!
Magic Mist, Lincolnshire,IL, presents the EZ-Fit Vaporizer kit which is the first of its kind in the United States. It is an automatic vaporizer that comes button free and comes equipped with a mechanism that can actually detect puffs being taken automatically. So, the user puffs and the EZ-Fit responds with a full bodies vapor that is satisfying.
The batteries are long lasting, and there are no threads. It features a twist and snap mechanism that maintains a tight fitting cartilage and no leakage on your clothing or inside your handbag. It is also much safer around children that the liquids which are very poisonous.
With an electronic cigarette you look better, smell better and feel better all the while being able to partake in a hobby you enjoy rather than being stuck with a habit that you hate. Not only is it the preferred hipster method, but it has helped thousands of smokers reduce their habit or stop all together. Even hard core smokers who said nothing could help them were shocked.
You can grab yours at a special Groupon price until 11/07. For more information you can also contact Magic Mist by phone at 1-844-624-4264 or by visiting their website at  themagicmist.com.