The Magic Mist Automatic EZ-FIT Vaporizer Kit is the first of its kind in the ecigarette industry!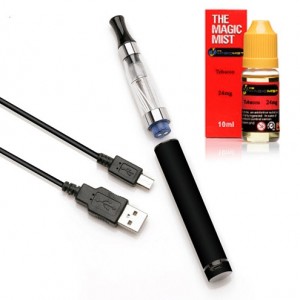 Its button-free mechanism makes it very simple to use for anyone. Also, the screwless mechanism makes it very easy to insert it into the Vaporizer and hence there is no leakage. It is really a great option who wants to use long life batteries but without the need of complex button mechanism on normal vaporizers.
Our automatic EZ-Fit vaporizer is the most simple and user friendly vaporizer in the market today.
Some key features: 
Revolutionary "Twist & Click" technology
Button free inhale activated
Easily charges with any Micro USB Charger (Android Cell Phone Charger)
Very light weight Made with USP Food Grade plastic parts
Full charge lasts up to 6-8 hours of smoking time
Our Vaporizer kit includes: 
1 Automatic 650 mAh lithium battery – Choice of Black or Chrome
1 EZ-Fit 1.6ml Clearomizer 1 USB/Micro USB Chargers
1 10 ml Bottle of Magic Mist Premium E-Liquid – Choice of Flavor and Strength
Each battery could last from 6 to 8 smoking hours depending on the usage. Battery could be selected from any of the 2 colors: Black or Chrome Each EZ-Fit Clearomizer has a capacity of 1.6ml.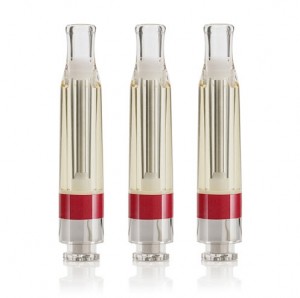 If you don't like filling your own liquid, you can always buy our Pre-filled EZ-Fit Clearomizers in either rich traditional Tobacco or cool refreshing Menthol Flavors. Currently we carry these clearomizers in 3 strengths: 12mg, 18mg, and 24mg in both flavors. 
This kit is designed for the everyday smoker. The long life batteries ensure that you are never run out of charge even if you don't have access to a computer or an electrical outlet for many hours. 

With price so low, our Automatic Vaporizer kit  is an ideal kit to try out if you are seriously trying to quit smoking. We guarantee 100% satisfaction – so you can always return our product for a full refund if unsatisfied for any reason (if returned within 30 days). We offer for free and fast delivery for all our products.